Work&Play: Open Rehearsal and Shared Practice with BMC, July 10, 2017, 2-6 pm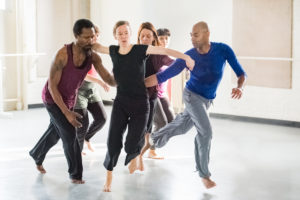 Are you a Columbus-based dance artist? Interested in experiencing the creative process of Bebe Miller Company, in the thick of a residency for their new work, Dancing in The Making Room? Interested in experimenting with us as we hone our improvisation and choreography scores?
Come join us for Work & Play, Monday, July 10th, 2–6 pm at OSU's Department of Dance, 1813 N. High St, Sullivan Hall studio 390.
Drop in for our open rehearsal anytime from 2–5 pm followed by a studio practice session with the company,  5–6 pm. We'd love to share what we're making as we head to our premiere at Wexner Center for the Arts, Nov 30–Dec 3, 2017.
This is a free event but space is limited and reservations are necessary. Email Lila Hurwitz, Project Manager, at lila@doolittleandbird.com.
And join us for our work-in-progress showing at the Wexner Center's Black Box Theater on Thursday July 13, 7pm. Reservations are required, and no more than two people per reservation. To reserve for the showing, email Sarah Swinford, sswinford@wexarts.org.
Dancing in The Making Room (premiering November 30, Wexner Center for the Arts)
Choreography and direction: Bebe Miller
Performers: Michelle Boulé, Sarah Gamblin, Angie Hauser, Darrell Jones, Bronwen MacArthur, Bebe Miller, and Trébien Pollard
Dramaturgy: Talvin Wilks