"What makes Ms. Miller's choreography so moving are the sudden moments of mystery …
coolly thoughtful yet dispatched with consummate ease." -The New York Times
---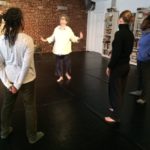 The Making Room is an investigation into innovative ways of sharing the creative process from start to premiere. Organized by Bebe Miller Company, the project brings together Bebe Miller and choreographer Susan Rethorst to generate a joined experience of the choreographic process, shared virtually and in person, over the course of one year. While each artist will be creating new work, the interactions between the artists in and outside of the studio, made available to virtual and live audiences, are the project's focus.
---
Dance Fort: A History  is a web-based portal designed to share with a broad audience what it feels like to be inside a dance in the making. We created Dance Fort as a technological play-space, part installation, part eBook, part website.  Containing cross-referenced research materials "danced, " viewed, spoken and shared, Dance Fort serves as a richly interactive archive of BMC's creative processes and functions as a documentation template for other dance artists, ultimately shifting the paradigm of an artist's archive from artifact to artwork. Dance Fort: A History (launched Spring 2015) is an intimate look at the inner workings of Bebe Miller Company and the creative process behind their production A History (2012). The iBook gathers the perspectives of the collaborative team – choreographer, dramaturg, dancers and design artists – told through rehearsal and performance videos, journal notes, email exchanges and more. Rich with media and audio, this volume of Dance Fort is the first of a planned series focusing on the Company's history through its creative process, delivering an artifact of archival information from the makers' perspective.
---
TWO examines choreographic thinking in the construction of performance improvisation for small groups in the processes and choreographic structures of Bebe Miller and the Bebe Miller Company and Thomas Hauert and the Zoo Company. In this project, we have selected two working strategies each from the two choreographers that together bring us into a direct encounter with the dancing mind and the thinking body. The aim will be to translate this thinking into innovative visual 'objects' published in the context of the Motion Bank on-line digital dance scores.
---
Bebe Miller: Tracing History explored choreographer Bebe Miller's history of dance innovation, from her earliest days as part of the downtown New York City contemporary dance scene to her current dual role as artistic director of Bebe Miller Company and Ohio State Department of Dance faculty member. This exhibition marked the 25th anniversary of Miller's company and complements the world premiere of A History at the Wexner Center September 27–30, 2012.
---
The company is available to set new or existing work on professional companies and university dance departments. Company members and collaborators are also available for teaching workshops in your community while on tour and at other times during the year. When on tour the company works with the presenter's community to create dynamic and relevant activities to foster audience interaction with the artists. Past events include facilitated audience Q & A's, presentations of technology uses in the creative process in collaboration with Apple stores. Additionally, this page includes a list of commissions and workshops by BMC from over the years and sample class descriptions.